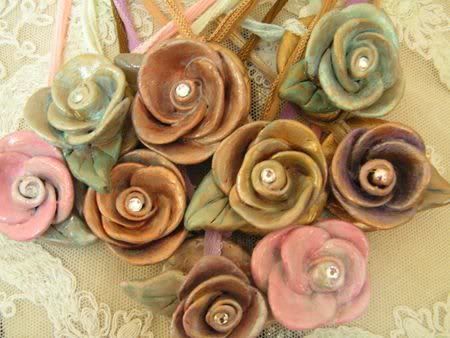 These beautiful hand sculpted rose necklaces are created by
Laura of Verbena Nested Treasures.
I entered the give-away on her blog and
I WON!!!
I am feeling a bit greedy and embarrassed that the last two blog postings I have done are about jewelry I have won.
Yes, I am a VERY LUCKY GIRL to be receiving two lovely pieces of jewelry from two inspiring artists!
My sister introduced me to Laura of Verbena Nested Treasures when she placed a multiple order for these beautiful necklaces. I know first hand the quality of these beauties, as I own one! The rose necklace Laura is making for me is going to be a gift for a friend, who I hold dear. She knows who she is!Thank you so much Laura! I am honored to wear one of your beautiful handmade creations! Your blog is so beautiful and you are a beautiful person...inside and out!